Reading Time:
< 1
minutes
Marketing,
digitalised
Let our expert team of digital marketers expand and highlight your brand in all the right places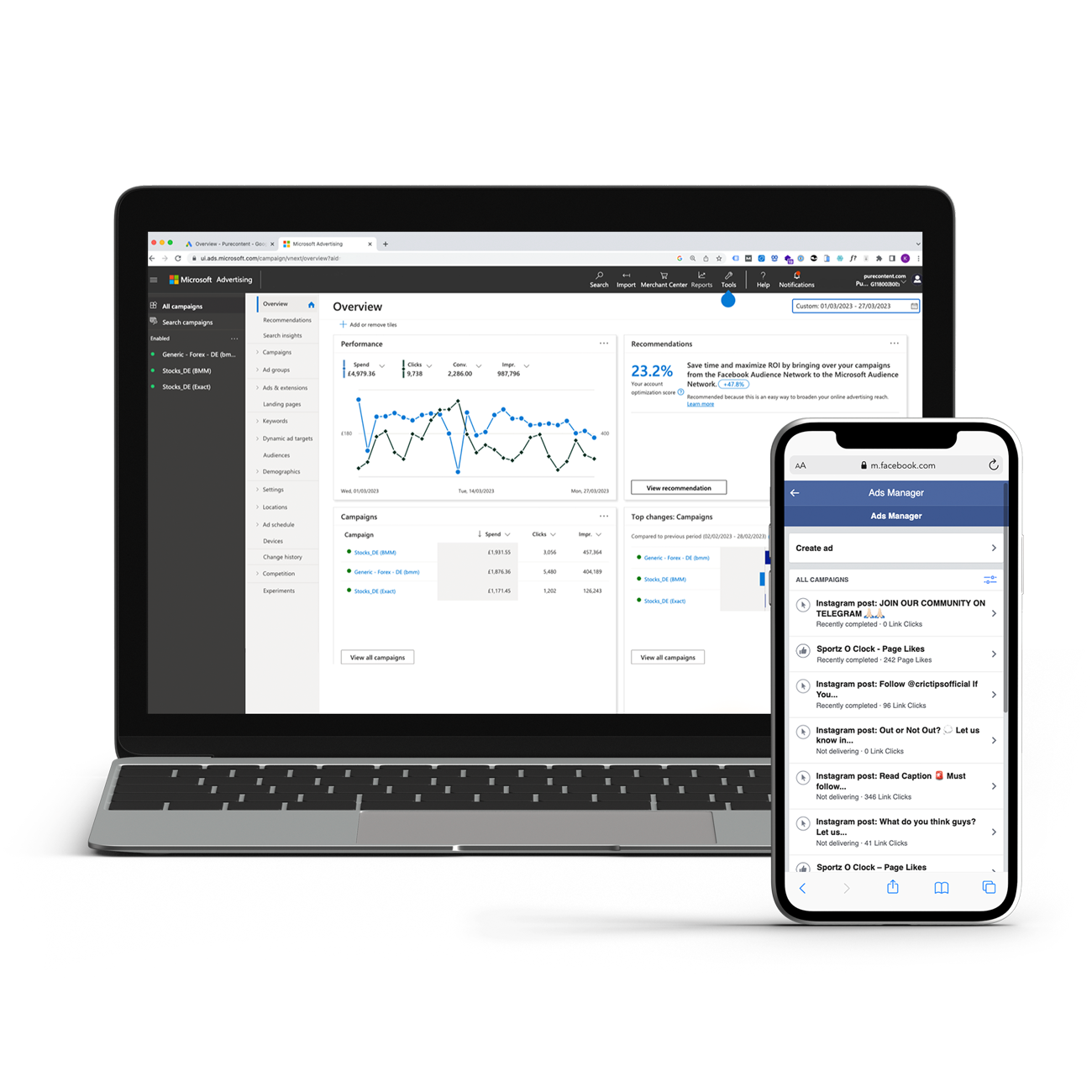 Graphic
design
It's difficult to capture your audience's attention without informative, relevant, and tailor-made imagery. Not only can we write copy to interest the most cynical customer, but our team of in-house designers will produce graphics to complement your brand and enrapture your readers.
Paid
search
Optimising your content for the SERPs will sometimes only take you so far up the rankings. Regardless of your budget, and whether you're interested in PPC marketing, social media ads, or something in between, we've got the paid search solutions to help your target audience find you.
Social
channels
Setting up and maintaining your social media profiles in the right way, to maximise their effectiveness for achieving your business goals. This can be from the ground up, including choosing the right platforms, creating engaging profiles, and posting high-quality content.
CRO
marketing
Conversion rate optimisation involves improving the effectiveness of your website or landing pages and converting visitors into customers or leads. Our team achieves this by researching the behaviour and preferences of your visitors to optimise page design, and website UX.
The digital marketing team
Investing in your digital marketing efforts can help grow and develop your business
Since our inception, we have known how powerful digital marketing can be, especially for increasing your online presence. One of its biggest benefits is being able to target your audience with precision. 
Creating target digital marketing campaigns allow you to reach your ideal audience, based on demographics, interests, and online behaviour. This targeted approach can also deliver higher engagement rates, click-throughs, and a better ROI. This leads to real, measurable results in real-time, allowing you the ability to make informed decisions about your future marketing efforts. 
"We have been working with Purecontent for a number of years now and are very happy with the quality and service provided. The team are superstars when it comes to marketing and always deliver for us."
GiG